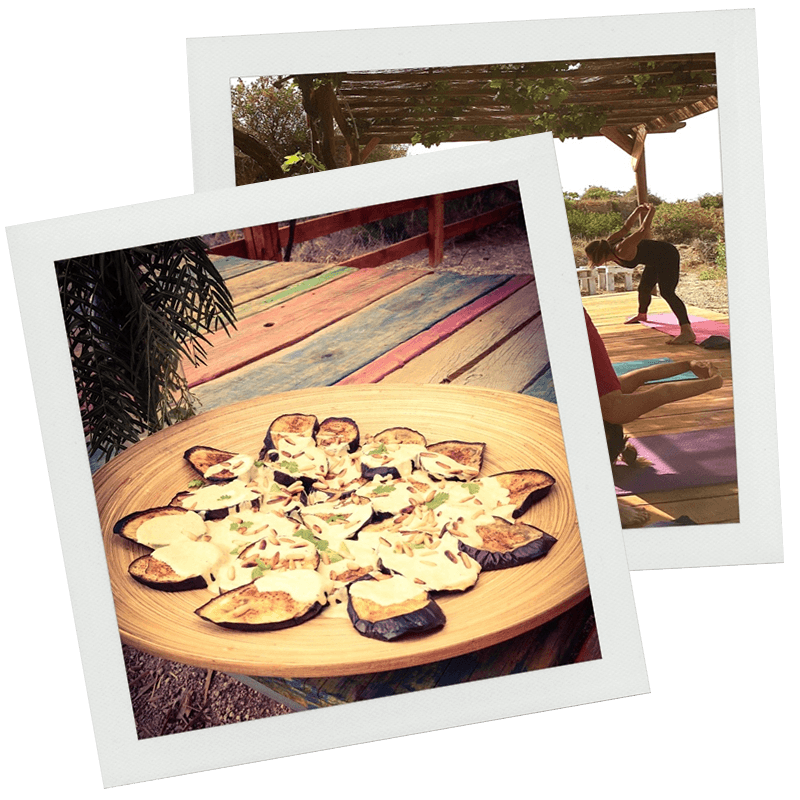 ---
APRIL 29th – MAY 5th 
YOGA HOLIDAY WITH TRACEY KILLENGRAY

"With 25 years experience within the Health and Fitness Industry as a qualified exercise professional and Yoga Teacher, I have taught a variety of fitness based and mind and body classes over the years until I found my true passion, yoga. Having spent many years juggling a full-time career in our very fast paced stressful society, as well as my body being confounded by many injuries from too much high impact exercise, my own personal journey took me to Maui, where I was privileged to be able to study with some world renowned masters in Iyengar, Ashtanga, Anusara and Vinyasa flow yoga, and I am grateful that my journey will continue. Other trainings include Theraputics and Thai Yoga Massage." For more information on this yoga holiday please visit: http://www.yogamemk.co.uk/yoga-holiday-2017/
 AUGUST 21st – 27th
ORGANIC SEASONAL YOGA RETREATS WITH LEIGH

After Leigh's highly successful retreat with us in 2016, she will join us again this year to deliver her Organic Seasonal Yoga Retreat. Leigh is a yoga teacher, freelance body balance instructor and nutritionist for physical activity. Her organic seasonal yoga practice is focused on strengthening and lengthening both through mind and body. Leigh works with a blend of Ashtanga yoga, flowing the practice in line with the seasonal elements and related organs. Leigh believes our heart is key in how we think, feel and react to everyday life. Her style of yoga will allow you to explore the current season and the seasonal impact on your life. Supporting you to focus on strengthening your heart, your mind and your body. On this retreat you will develop and strengthen your yoga practice, have plenty of YOU time, cleanse and purify your mind, body and soul and will learn new skills and new things about yourself. We will be running optional healthy cooking classes throughout the retreat. For more information please contact us.
SEPTEMBER 13tht – 19th
MYSORE WITH INKE AND STEPHANIE

Take some time away and submerge yourself in a magical week of Mysore Yoga by the Atlantic Ocean. Step onto your mat every morning, appreciate the colourful island setting and savour the flavours of tasty, balanced meals. We'd like to invite you to be offline for the week and experience being truly present. In a small group of eight yogis, you'll receive individual attention and deepen your practice and understanding of yoga. Pregnant yoginis are welcome! The Program includes six days of Pranayama and Mysore in the mornings, Yin Yoga, Yoga Nidra and Pranayama in the afternoons and plenty of free time to lounge at the pool, walk through the mountains or dip your toes into the ocean. For more information on this yoga retreat please visit:  inke@shenar.de
---
PRICES
Prices may vary depending on which retreat you sign up to. Most start at 650 EUR per person based on two sharing accommodation with all food, drink and classes included. We also have single occupancy rooms for an additional charge.
JUNE 8th – 14th, JUNE 19th – 25th & AUGUST 10th – 16th 
EAT. BEND. LOVE – YOGA AND HEALTHY COOKING RETREATS WITH MAGDA PROCNER
Magda is returning to join us here at Elska Organics to run her hugely successful Eat. Bend. Love retreat. Enjoy two yoga classes per day in our peaceful, ocean-view shala will leave you feeling relaxed, inspired and motivated. In the morning there will be a 90-minute dynamic Vinyasa class which will aim at building both strength and flexibility, helping you gain more body awareness and find out what your body needs most.  Afternoon classes will focus on releasing tension and nourishing your body through a slow, yin-style practice with pranayama (breathing) techniques and meditation.All levels are welcome – whether you're new to yoga or have been practising for years, you will be challenged and encouraged to explore your body in a safe way, always working within its limits. A small group (maximum 10 people) means a lot of personal attention for every student and tips on how to develop your practice. For more information on Magda please visit: http://www.magsyoga.com/
JULY 9th – 15th
YOGA, MEDITATION, KIRTAN, BEACH & NATURE WITH VRINDAYOGA

For one week leave your daily grind behind! Dive deeply into revitalizing yoga boosting your immune system and giving you inner balance and peace.
Every morning and evening there will be a 90-min hatha yoga class, to gently stretch, energize and strengthen your body, enliven your senses, and calm and deepen your mind. Whether you are a beginner or a seasoned practitioner, all classes are tailored to your individual abilities and needs.  Breathing techniques, meditation, deep relaxation techniques (Yoga Nidra) and Kirtan (in the evenings) will complete our daily practice. In Integral Yoga these items support the experience of harmony in body, mind and soul. Most of your yoga practice will be done on our ocean-view yoga shala.
Your yoga teachers from Vrindayoga are Susana and Aksara. Both of them have been practicing yoga for more than 15 years and have done a number of teacher trainings and seminars in different yoga traditions. Their focus is on Integral Yoga by Swami Satyananda, optimized execution of yoga postures (Iyengar Yoga style), back program, breathing program, energy work, Yoga Nidra relaxation, and Kirtan (mantra meditation with musical instruments). Aksara is a hatha yoga teacher trained in the Satyananda tradition with 20 years of experience in yoga and meditation. Susana took her teacher training in the G.F.U school of yoga and in the Satyananda tradition, too. She has 12 years of experience in teaching. Every morning and afternoon there will be a yoga class or meditation session. Whether you are a beginner or beyond, all classes are tailored to your individual abilities and needs. These yoga and meditation classes are designed to vitalize your body and immune system, to stimulate your senses and to restore your inner balance and confidence. You can do as much or as little as you want and enjoy a well-deserved break from your routine with relaxing yoga.
For more information on Vrindayoga please visit:
SEPTEMBER 3rd – 9th
SOUL FOOD YOGA JOURNEY WITH NEW MOON YOGA
(THIS RETREAT IS TAUGHT IN GERMAN)

We invite you to find back to inner calm and serenity during this Yoga Retreat. Leave your daily routine behind you, slow down, look inwards and gather new energy with a mindful yoga practice and healthy food. In the mornings we will start with Pranayama (breathing techniques) and a gentle Vinyasa Flow, feel the guidance of our breath and the connection of body, mind and soul. In the evenings we will practice to let go and release tensions with Yin Yoga, Yoga Nidra or guided meditations. You will learn techniques for more mindfulness that will not only enrich your Yoga practice but also your day to day life back home. In addition we will have two cooking classes with our lovely host Kerensa and learn how to nourish our body and soul with yummy and healthy vegetarian and vegan food. No matter if you are already an experienced Yogi or just starting your Yoga journey – in a small group of max. eight attendees guided by two Yoga teachers you will receive the necessary attention to deepen your practice and widen your understanding of Yoga. Andrea and Katrin are experienced Yoga teachers for Vinyasa Flow, Yin Yoga and Yoga Nidra from Germany. Their teachings are inspired by findings and insights on TCM and their experiences as bodyworkers for Thai Yoga Massage, Shiatsu and Reiki. Both understand Yoga as an internal practice, a philosophy of life going far beyond Asana. They believe that mindfulness and compassion for yourself and others are essential skills to transform your life and boost happiness. With playful ease they include philosophical topics in their classes that are always aiming at making you leave with a feeling of inner contentment and a smile on your face. For more information on New Moon Yoga please visit: http://www.newmoonyoga.de/retreats/rt_spanien_2