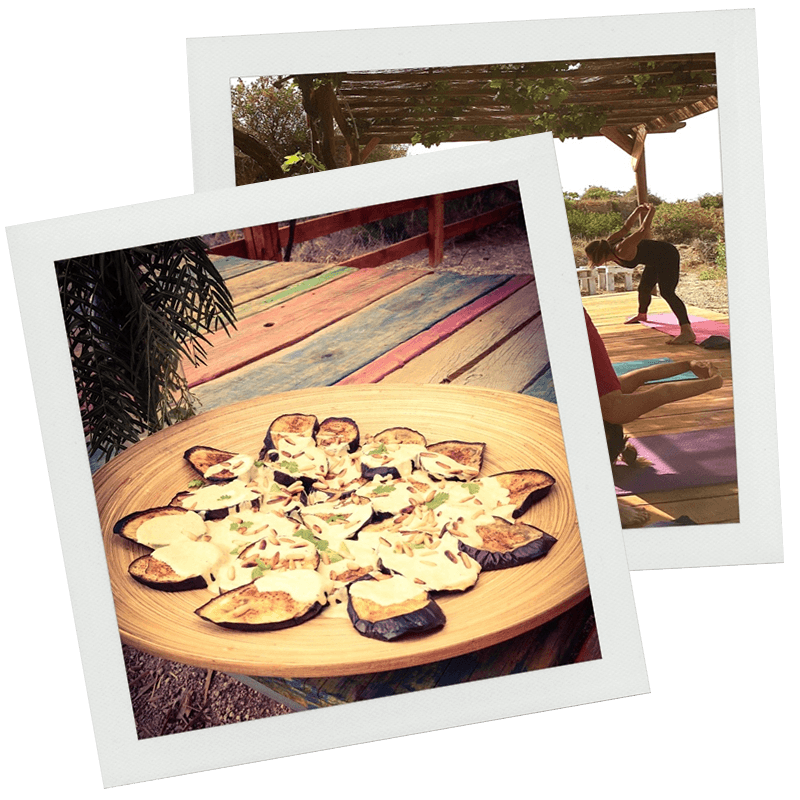 ---
MAY 7th – 13th
ORGANIC SEASONAL YOGA RETREAT WITH LEIGH

After Leigh's highly successful retreats with us in 2016 and 2017, she will join us once again to deliver her Organic Seasonal Yoga Retreat. Leigh is a yoga teacher, freelance body balance instructor and nutritionist for physical activity. Her organic seasonal yoga practice is focused on strengthening and lengthening both through mind and body. Leigh works with a blend of Ashtanga yoga, flowing the practice in line with the seasonal elements and related organs. Leigh believes our heart is key in how we think, feel and react to everyday life. Her style of yoga will allow you to explore the current season and the seasonal impact on your life. Supporting you to focus on strengthening your heart, your mind and your body. On this retreat you will develop and strengthen your yoga practice, have plenty of YOU time, cleanse and purify your mind, body and soul and will learn new skills and new things about yourself. We will be running optional healthy cooking classes throughout the retreat. For more information please contact us.
MAY 31st – JUNE 6th & JUNE 10th – 16th 
EAT. BEND. LOVE – YOGA AND HEALTHY COOKING RETREATS WITH MAGDA PROCNER
Magda is returning to join us here at Elska Organics to run her hugely successful Eat. Bend. Love retreat. Enjoy two yoga classes per day in our peaceful, ocean-view shala will leave you feeling relaxed, inspired and motivated. In the morning there will be a 90-minute dynamic Vinyasa class which will aim at building both strength and flexibility, helping you gain more body awareness and find out what your body needs most.  Afternoon classes will focus on releasing tension and nourishing your body through a slow, yin-style practice with pranayama (breathing) techniques and meditation.All levels are welcome – whether you're new to yoga or have been practising for years, you will be challenged and encouraged to explore your body in a safe way, always working within its limits. A small group (maximum 10 people) means a lot of personal attention for every student and tips on how to develop your practice. For more information on Magda please visit: http://www.magsyoga.com/
---
PRICES
Prices may vary depending on which retreat you sign up to. Most start at 650 EUR per person based on two sharing accommodation with all food, drink and classes included. We also have single occupancy rooms for an additional charge.
MAY 21st -27th
BREATHE TENERIFE

We are excited to announce our first special 'Reflect & Revive' retreat alongside Rob Sparre-boom and Kim Lanjouw of Zenerife (www.zenerife.com), and Richard Burton of the Irish Institute of Nutrition & Health (www.iinh.net). Rob is a life coach (www.walkthetalk.life) with specialties in habit changing, breath work and NLP. Kim is a life style coach, marketing strategist and yin yoga enthusiast. Richard is founder and director of IINH with over 40 years of experience in personalised nutrition and education.
Together we offer 'Breathe Tenerife', a unique retreat experience designed to 'reflect and revive' – by offering:
life coach consultation
personalised nutrition consultation
yoga
meditation
breath work
activities in nature
The 5-day intensive retreat will help you reconnect to the things that matter most to you and make realistic plans to follow your purpose in the years ahead. We'll help you create healthy habits and skills – and make them stick!
How often have we longed to change our current situation but been disempowered by negative beliefs and that supercritical voice in our head!?
During this retreat you will be coached to craft your own lifestyle changes and to develop the courage to take the first steps. New healthy habits, a plan and the accountability of the group will optimise your progress going forward.
Before the retreat we will contact you with a questionnaire to discover your expectations and goals. We will ask you to prepare an exercise so we can customize the experience to your needs.
Each morning will start with a breathing ritual to energize the body and build mental strength, followed by a group session or activity designed to challenge you to rediscover your purpose and make plans accordingly.
Our outdoor activities are designed to help you connect with nature and reflect. At times they will be challenging and will stretch your comfort zone to explore your capabilities and learn.
Every day will close with a meditation session based on Vipassana techniques.